"Police and child welfare workers in Utah's most populous county confirmed fewer cases of child abuse in 2020 after the pandemic closed schools, churches and other places where adults tend to spot signs of abuse.
"Now, Salt Lake County leaders and advocates are urging people to keep an eye out in their own communities and report any evidence of neglect or physical, emotional and sexual abuse so authorities can intervene.
"There were 3,616 confirmed cases within the county last year, about a 10% drop from a year earlier, when the number stood at 4,033, according to the county and the nonprofit Family Support Center. The vast majority of perpetrators last year— 90% — were someone within the child's 'circle of trust.'
"'The actual number of kids who were victimized in 2020 is likely much higher,' said Jocelyn De La Rosa, executive director of the Taylorsville-based Family Support Center.
"'There's probably double that,' De La Rosa told KSL.com. 'Typically, the people that would report it aren't reporting it.'
"She joined Salt Lake County Mayor Jenny Wilson, District Attorney Sim Gill and others in planting blue pinwheels on the lawn of the Salt Lake County Government Center to call attention to the issue. April is nationally recognized as child abuse awareness month.
"They told reporters everyone must stay vigilant in order to help address the problem.
"Wilson read a county proclamation against child abuse, calling it a top priority and saying each kid deserves to grow up in a safe environment.
"'We certainly understand during COVID times, children are often more at risk,' the mayor said.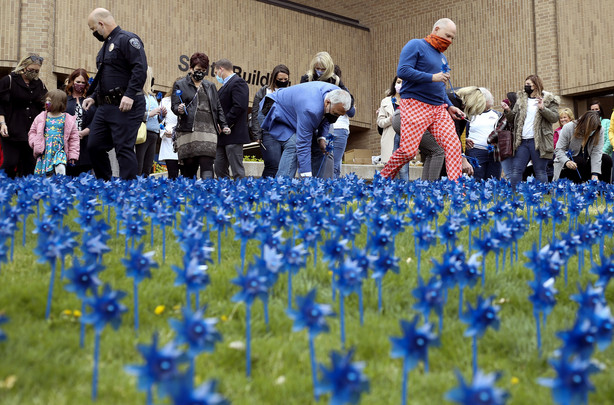 "The confirmed cases in her county last year represent more than 1/3 of the statewide total, which was 10,564, according to her office. The number of cases in the county had been ticking up consistently prior to last year.
"'The biggest form of abuse that we deal with is neglect,' said Salt Lake County Councilwoman Aimee Winder Newton. 'Providing resources for families and for parents is so key to be, to be able to prevent child abuse from happening in our county.'
"De La Rosa said that as the pandemic's grip has loosened in Utah, more people are seeking out help from her nonprofit, which has a nursery for children whose parents need immediate help in caring for children and provides counseling, among other services.
"'By the time police get involved, a child is already severely traumatized,' Gill said. But the cases are preventable, he added, 'and I want to be put out of work when it comes to investigating them.'
"Gill said a new division of his office is focused on helping victims, especially those who survived childhood sexual abuse or have seen violence in their homes. His office is sending 72 children ages 8-16 to a weeklong program this summer, Camp HOPE [America], to help them make good memories after living through traumatic experiences."
Click here to read the original article.
The post Salt Lake County leaders say pandemic has left kids vulnerable to abuse appeared first on Camp HOPE America.